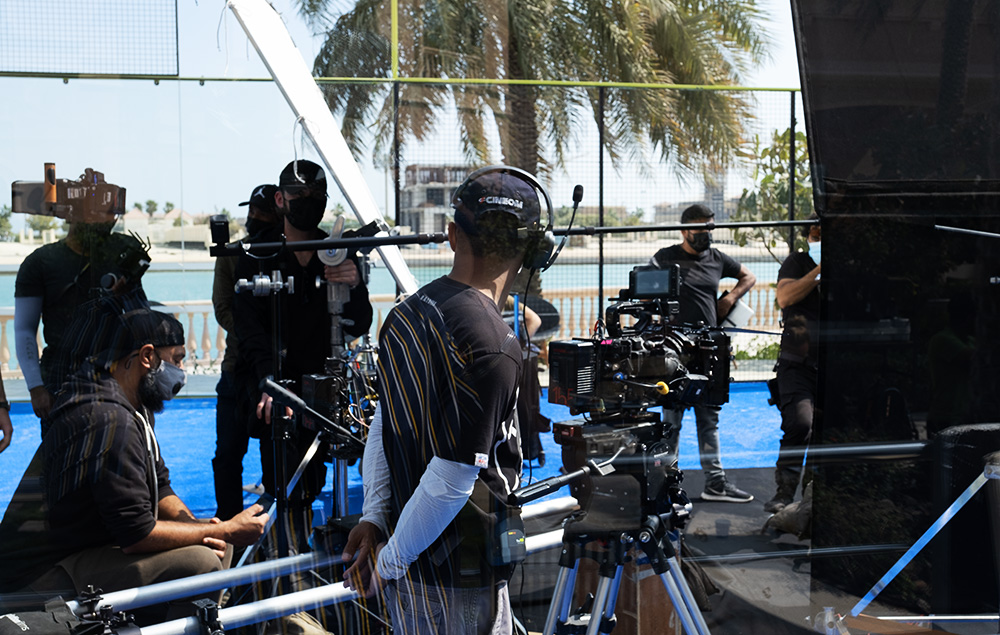 FIXING & LOCATION SUPPORT
Ultramarine Films is one of a select few production companies officially licensed by Qatari authorities to provide complete location filming services within Qatar for all variants of video and film production, including: broadcast, documentary, commercial, advertorial, news, sports, online and film.
Our comprehensive knowledge of Qatar's production scene ensures that Ultramarine Films clients will always be offered production plans that are reliable, cost effective and efficiently produced. Our services include, but are not limited to, the following:
Provision of specialist crew across all sectors of production
Provision of high specification production equipment (camera / lighting / audio / grips)
Provision of industry leading post-production services (offline / online / audio)
Creative services including development, scripting, music composition & performance
Casting services
Location scouting and permit services
Transport services
Customs services for import / export of production equipment
Qatar entry services for production cast and crew
Hospitality services for production cast and crew
Al Kass TVC FIFA World Cup Qatar 2022™ promo
Ultramarine Films provided exceptional support services for the Al Kass TVC FIFA World Cup Qatar 2022™ promo, resulting in an outstanding end product. With a diverse crew of over 100 people from around the world, including casts, set designers, prop masters, stylists, crew members, and technical experts, Ultramarine Films ensured that the project was a success in every aspect.
To guarantee the highest standards, Ultramarine Films provided top-of-the-line equipment such as the ARRI Trinity 2 and U-CRANE, the former Russian Arm. Every team member showed great dedication and contributed their skills and expertise to create something truly remarkable.
Ultramarine Films' attention to detail and commitment helped exceed expectations, making the Al Kass TVC FIFA World Cup Qatar 2022™ promo a great success.
ESPN Series: Last Train To Qatar
Leading up to the FIFA World Cup™, ESPN presents "Last Train to Qatar", an eight-episode series that will explore the host country through the eyes of ESPN International reporter Martin Ainstein.
Each episode will feature stories related not only to this world class event but also to the wonders of Qatar. Stadiums, culture, food, touristic places, historic sites, local businesses, music, the Qatari's lifestyle and more.
Last Train to Qatar is a global content initiative produced in English, Spanish, Portuguese and Mandarin for fans across ESPN networks around the world (USA, Latin America, Brazil, the Caribbean, Australia, New Zealand, India and China).
With our dedicated crew, locations support, and equipment, Ultramarine Films is proud to be a part of this exciting project!
Get in touch with us
Want our service for your next project? Talk to our team today.