Drone Aerial Filming Services
Ultramarine Films is Qatar's leading provider of aerial drone filming services, completing 200+ hours of aerial filming in Qatar each year since 2018 across a huge range of projects from international sports events, to commercial TVC's to non-scripted, factual projects. Offering a dedicated aerial team of licensed drone pilots, production staff and a fleet of state-of-the-art drone systems & production support vehicles, Ultramarine Films provides end-to-end aerial filming solutions for all video and photographic projects.
Our aerial team consists of Qatar CAA approved flight controllers and drone pilots who are each highly experienced in local operating procedure, ensuring that Ultramarine Films captures breath taking aerial footage across Qatar's stunning landscape as required. Ultramarine Films offer professional grade drone systems for hire including the DJI Inspire 2 Drone (Zenmuse X7 camera) and the DJI MAVIC 2 Pro. Ultramarine Films aerial team are cinematographic and photographic project specialists but also supply additional drone services, including safety surveys, UAV flight permit applications, and close proximity flying procedures. Please note, Qatari law prevents any operation of drones (UAV's or remotely operated air systems) at any time, in any location without valid government permission due to hazards posed to State Air Safety and Air Navigation.
DJI Inspire 2 Drone
Ultramarine Films is proud to offer the DJI Inspire 2, paired with the Zenmuse X7 camera, a professional grade cinematographic & photographic drone for creators who desire the absolute best aerial image quality possible. To meet the highest professional filmmaking standards, the Zenmuse X7 camera uses an S35 image sensor, offering 6K CinemaDNG RAW and a wide dynamic range of up to 14 stops. Footage from the system is designed to intercut with professional cameras like the Arri Alexa.
The X7 utilizes the DL-Mount, the world's first integrated aerial lens mount that allows for switching between four available prime lenses quickly and easily. Three F2.8 lenses are available with this system with focal lengths of 16mm, 24mm and 35mm. The drone can travel at a top speed of 58 mph (93.3 km/h) in Sport Mode, accelerate from 0 – 50 mph in 4 seconds – the type of performance demanded by Hollywood filmmakers. When coupled with the Zenmuse X7 it can remain in the air for 23 minutes. The drone contains a built-in forward-facing 2-axis FPV camera that helps guide it and keep a front-facing vantage point. The Zenmuse X7 is a compact APS-C/Super35 camera with a 24MP CMOS sensor. It uses DJI's proprietary DL-Mount and attaches to a 3-axis gimbal that can rotate 360°.
This drone supports two remotes – one for the pilot and the other for the camera operator -and is the first drone to feature an Intelligent mode called Spotlight Pro – an advanced version of ActiveTrack that utilizes DJI's proprietary visual tracking algorithm. It will track and follow a subject continuously while the pilot flies in any direction, negating the need for a second pilot even though the option is available.
DJI Zenmuse X7 Lens Selection:
• 35mmm 2.8 LS ASPH lens
• 24mmm 2.8 LS ASPH lens
• 16mmm 2.8 LS ASPH lens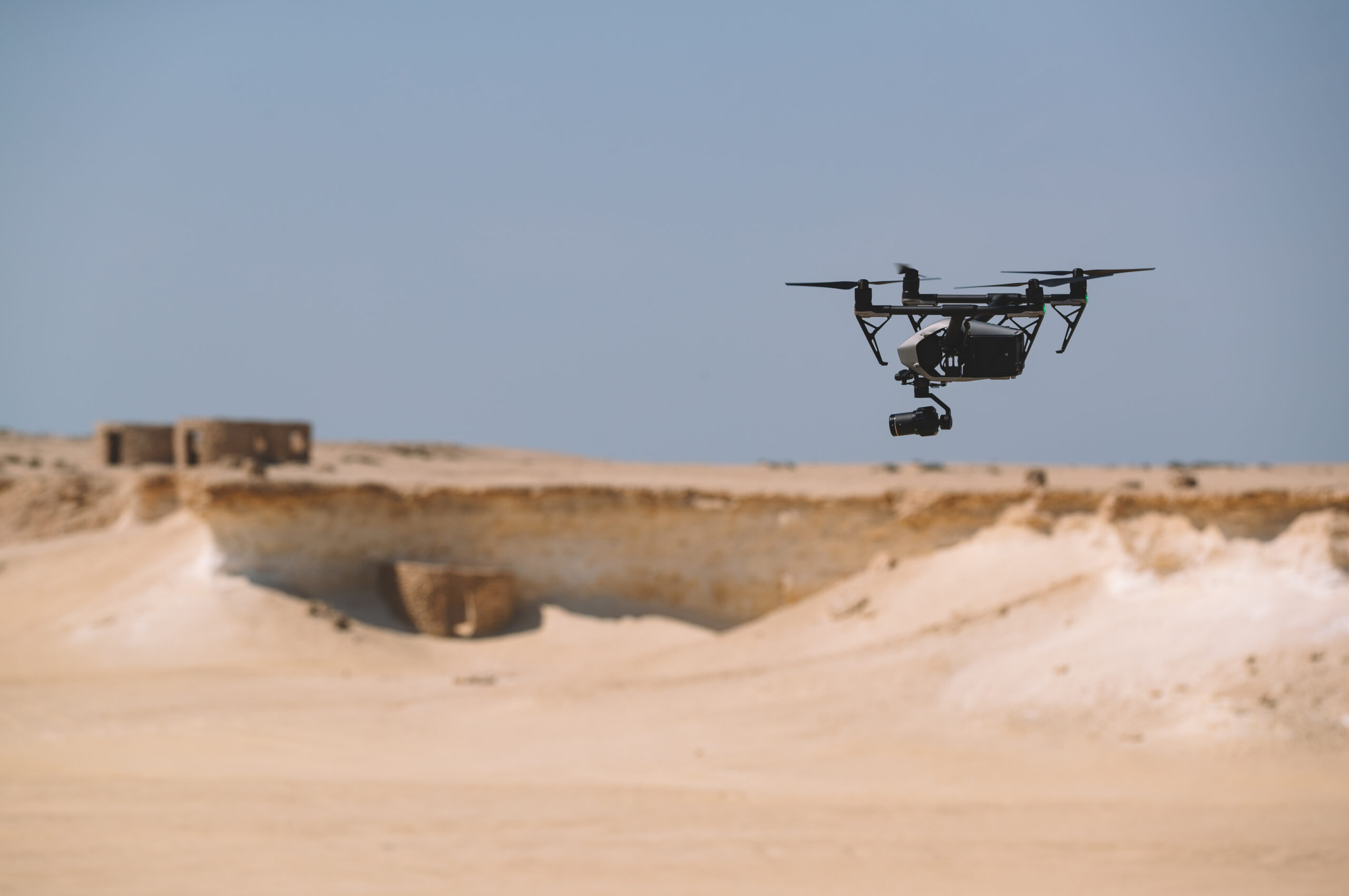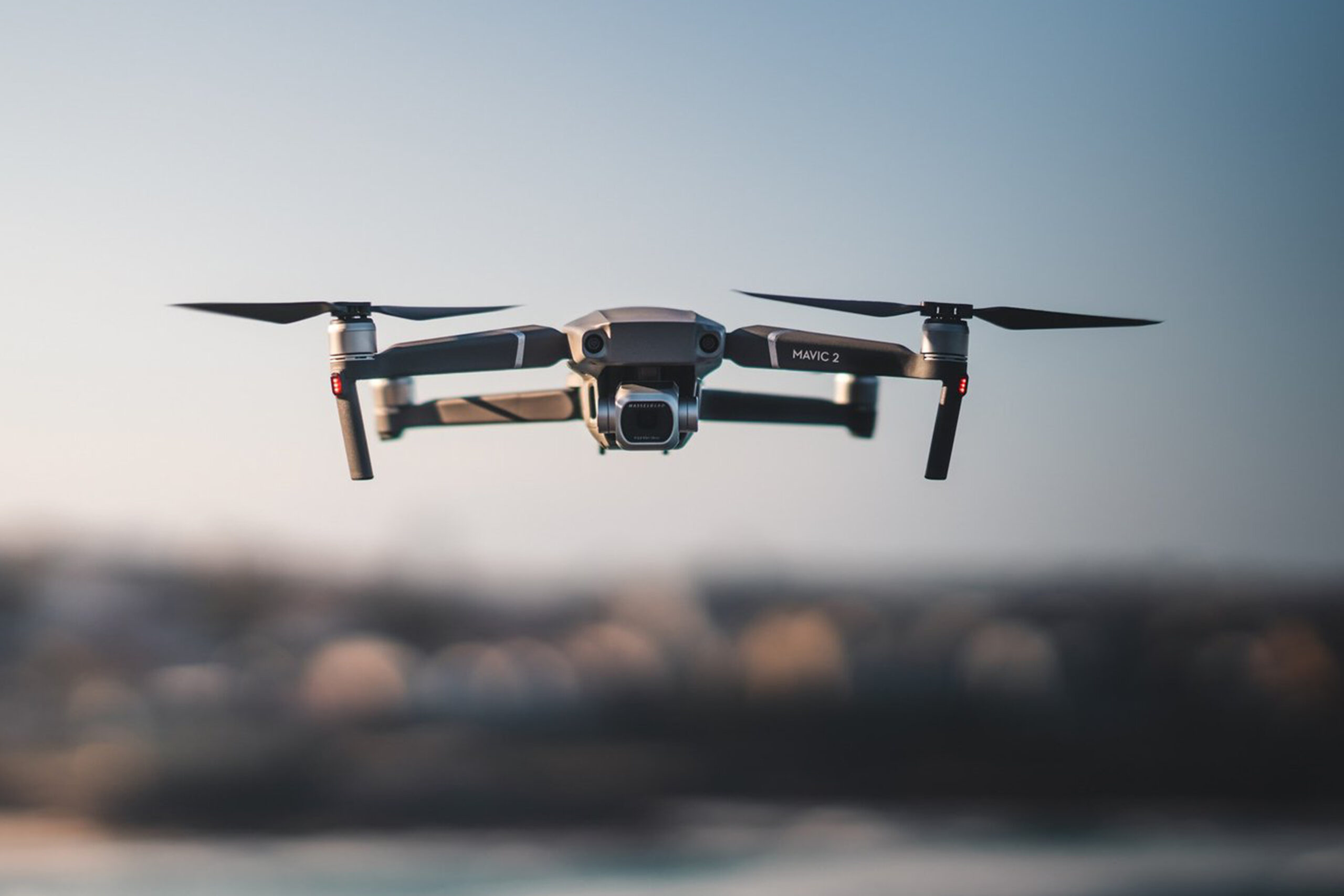 DJI MAVIC 2 Pro
Ultramarine Films recommends this professional grade 4K drone for video & stills projects running within a busy timeframe that require rapid response. Its compact, lightweight design means it can be carried in a backpack and quickly deployed. The Mavic 2 Pro is the best compact drone system available; featuring a Hasselblad camera with a aperture control it can shoot 10-bit 4K video at 100Mbps.
Its 20 Megapixel 1" CMOS sensor is capable of shooting professional grade 4K video and RAW still photographs.
The Mavic 2 Pro's lightweight, foldable design almost halves its footprint for transportation, making it the most portable drone with a one-inch sensor available. The Mavic 2 Pro can fly realistically for up to 20-25 minutes, with a maximum speed of up to 45mph / 72kph.