AERIAL VIDEOGRAPHY & PHOTOGRAPHY
Ultramarine Films is Qatar's leading provider of aerial drone and helicopter filming services. Since 2012 we have captured 300+ hours of aerial filming content across every part of the country. Offering a dedicated aerial team of Qatar R/C licensed drone pilots, production staff and a fleet of state-of-the-art drone systems & production support vehicles, Ultramarine Films provides end-to-end aerial filming solutions for all video and photographic projects.
With more than 10 years of aerial filming experience in Qatar, we offer a bespoke aerial filming permit service that secures aerial filming access according to the requirements of all relevant Qatari organizations (including the CAA).
Recent clients of Ultramarine Films aerial filming services include ESPN™ (Disney™), FIFA™, National Geographic Channel™, BBC™, Qatar Foundation™, Qatar Gas™, Qatar Media Corporation™, and the Supreme Committee for Delivery and Legacy™.
DJI Inspire 2 Drone (Zenmuse X7 Camera)
The DJI Inspire 2 delivers exceptional images for professional filmmakers with 35mmm, 24mmm and 16mmm focal lengths, 2.8 LS-ASPH lens, S35 Image Sensor, 6K Cinema DNG RAW, and a wide dynamic range up to 14 stops. The use of DL-Mount in the X7 provides the world's first integrated aerial lens mount that makes switching between the four available prime lenses quick and seamless. This drone can be controlled at a top speed of 58mph (93.3km/hr) in sports mode and can be accelerated from 0-50mph in just 4 secs. DJI Inspire 2 is the first ever drone to sense spotlight pro, a visual tracking algorithm.
Lenses Available:
The DJI Mavic 2 Pro is a professional grade 4K drone best suited for video & stills projects running within a tight timeframe that require rapid response. Its compact, lightweight design means it can be carried in a backpack and quickly deployed. The Mavic 2 Pro features a Hasselblad camera with a aperture control it can shoot 10-bit 4K video at 100Mbps. Its 20 Megapixel 1" CMOS sensor is capable of shooting professional grade 4K video and RAW still photographs. The Mavic 2 Pro can fly for up to 20-25 minutes, with a maximum speed of up to 45mph / 72kph.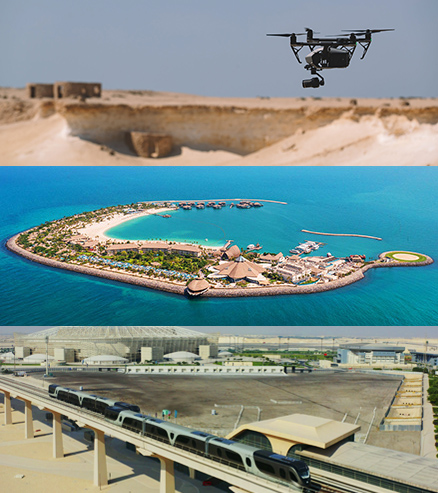 The DJI Mavic 3 is a step up from the DJI Mavic 2 Pro; it's a powerful flagship camera drone equipped with a 4/3 CMOS Hasselblad camera to facilitate professional-level imaging up to 5.1K Apple Pro Resolution. This is a new generation drone with Vision Detection Auto Focus Technology (VDAF) that is able to sense objects and capture superb images with an adjustable aperture from f2.8/f11.
The DJI FPV is a ground-breaking ready-to-fly FPV drone that moves through the sky in ways that seem impossible. Sleek and aerodynamic the DJI FPV delivers powerful propulsion, impressive battery life and unrivalled manoeuvrability.The DJI FPV can record 4K/60fps video at up to 150 Mbps, capturing crisp details that make footage look as exhilarating as the flight
Get in touch with us
Want our service for your next project? Talk to our team today.